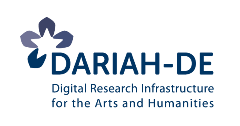 Aufbau von Forschungsinfrastrukturen für die e-Humanities
Das vom Bundesministerium für Bildung und Forschung geförderte Projekt DARIAH (Digital Research Infrastructure for the Arts and Humanities) ist ein Forschungsverbund zur Entwicklung von nachhaltigen Forschungsinfrastrukturen für die Geistes- und Kulturwissenschaften. DARIAH arbeitet gemeinsam mit Wissenschaftlern aus unterschiedlichen geistes- und kulturwissenschaftlichen Disziplinen, um digitale Forschungsmethoden zu entwickeln, Forschungsfragen auf neue Weise zu beantworten und neue Forschungsfragen zu etablieren. Technologische Basis dafür sind die langfristige Archivierung und Vernetzung von Forschungsdaten sowie IT-gestützte Werkzeuge zur kollaborativen Forschung auf Basis dieser Daten. DARIAH-DE ist der deutsche Beitrag zum European Strategy Forum for Research Infrastructures (ESFRI) der EU. DARIAH-EU ist dabei für die technologische, inhaltliche und organisatorische Abstimmung zwischen europäischen und deutschen Infrastrukturen sowie Forschungsnetzwerken in den Geistes- und Kulturwissenschaften verantwortlich.
DARIAH-DE unterstützt die mit digitalen Methoden und Verfahren arbeitende Forschung in den Geistes- und Kulturwissenschaften. Die Forschungsinfrastruktur von DARIAH-DE besteht aus vier Säulen:
Lehre: Durchführung von Workshops, Bereitstellung von Schulungsmaterialien und Nachwuchsförderung für die e-Humanities,
Forschung: Entwicklung von digitalen Tools und Services für die geistes- und kulturwissenschaftliche Forschung,
Forschungsdaten: Weiterentwicklung von Standards und Empfehlungen im Umgang mit Forschungsdaten und der Entwicklung eines Forschungsdaten-Repositoriums und
Technische Infrastruktur: u.a. zur Verfügung stellen von kollaborativen Arbeitsumgebungen.
Weiterführende Informationen: https://de.dariah.eu/ueber-dariah-de
Further Information: https://de.dariah.eu/dariah-de-english